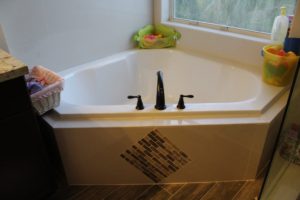 Is your bathroom aging or sporting an outdated style? Having an outdated bathroom can devalue your home and take from the rooms natural relaxation and serenity. One of the best ways to add value and comfort to your house is to remodel your kitchen or bathroom.
It's time for a bathroom remodel!
PLANNING A SMART BATHROOM REMODEL
Before getting to work, Gary will listen to your wants and needs. He will carefully talk you through the different options on everything from the types of fixtures you select, and where you want your fixtures to be placed.
With over 25 years of experience doing these types of remodels, Gary knows how to make sure your new bathroom or kitchen not only looks fabulous and but knows how to stick to your budget. He works closely with the Contractor to make sure that everything is finished on time and just the way you want it.
If you are thinking about remodeling your kitchen or bathroom, make sure to call us to schedule a consultation. Once you see how knowledgeable Gary is about remodels, you will be glad to have him working on your project.
Call Us Today at 754-264-6147 to Schedule Your Service Call or Estimate
You can always send us your non-emergency questions through our website. We will reply to your message the next business day.
You have a lot of choices when it comes to plumbing service in South Florida. But, if you want to fast, friendly, and affordable service there is only one option, Gary the Plumber.
There's a reason he's been around for more than 25 years. He not only knows how to solve just about any plumbing issue, but he also knows how to treat people the right way.
Call Gary the Plumber if you want to find out what it's like to get plumbing services from someone that you can trust.