Water Heater Repair & Installation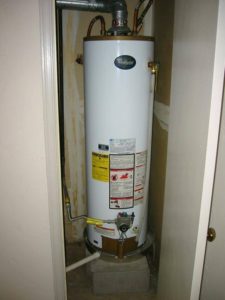 There are fewer things more disruptive than having a problem with your water heater. Without hot water you can't do laundry or dishes properly. You can't even take a nice relaxing bath or a quick refreshing hot shower.
Gary understands that when you have a hot water problem you need it fixed right away. He knows that the most common issues with a hot water heater are: 1 A bad heating element, 2. A bad thermostat, 3. A leak in the tank, 4. No power to the unit.
When you call Gary he will come over and give you a free estimate. He will let you know if you are looking at a simple repair or if you need a new water heater. Typically, water heaters need to be replaced every 10-12 years.
Gary specializes in working with Rheem, Rudd, A.O. Smith, State, Bradford White, and Lochinvar water heaters.
Our team can repair and replace commercial and residential hot water heaters.
Call Us Today at 754-264-6147 to Schedule Your Service Call or Estimate
You can always send us your non-emergency questions through our website. We will reply to your message the next business day.
You have a lot of choices when it comes to plumbing service in South Florida. But, if you want to fast, friendly, and affordable service there is only one option, Gary the Plumber.
There's a reason he's been around for more than 25 years. He not only knows how to solve just about any plumbing issue, but he also knows how to treat people the right way.
Call Gary the Plumber if you want to find out what it's like to get plumbing services from someone that you can trust.